Longwood Park
Salem, VA
2/1/18
Q: Herschel with assistance of Dunphy(I expected to be able to run my excercises longer but they were painful)
Pax: Dunphy, Acorn, iNBEV(FNG), Mr. Jinx,Herschel
Warmup- side straddle hop, forward/reverse arm circles, Rubios, 10 Merks
Grabbed rucks and water jugs and we were going to walk the trail but Acorn noticed the big hill so we went over and down to the clamshell.
2 x BEAR CRAWL UP HILL 10 MERKINS 10 SQUATS CRAWL BEAR DOWN
BACK TO CLAMSHELL
2 GUYS WALLSIT WITH WATER JUGS HUGS.  OTHER PAX 2 ROTATIONS AROUND CLAMSHELL.  ENDED UP WITH 2 X 5 BURPEE PENALTIES
I COULDNT THINK ANYMORE SO I ASKED FOR HELP
DUNPHY'S CHOICE –
1 GUY UP HILL WITH BOTH WATER JUGS REST OF GROUP DOES EXCERCISE CHOSEN BY JUG CARRIER
DUNPHY- FLUTTER KICKS WITH RUCK OVER OUR HEAD
ACORN- JANE FONDA'S, SQUATS
HERSCHEL- CAROLINA DRY DOCKS, SOMETHING ELSE(this again is where lack of oxygen kicks in)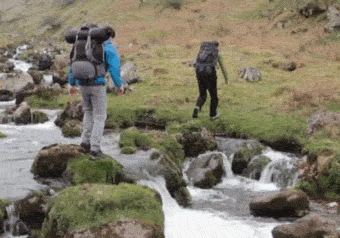 Mr. Jinx, Inbev and their exercises.
Rucked the trail to cool down for 4 or 5 minutes and came back by to pick up the water jugs.
Recover Recover in the top lot.
<iframe src="https://giphy.com/embed/kQzdYesBNEeHK" width="480″ height="336″ frameBorder="0″ class="giphy-embed" allowFullScreen></iframe><p><a href="https://giphy.com/gifs/jason-backpack-kQzdYesBNEeHK">via GIPHY</a></p>
No announcements